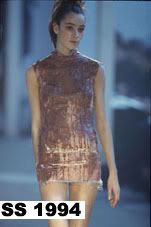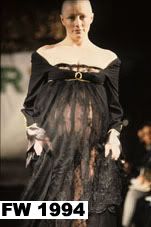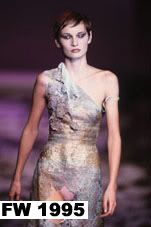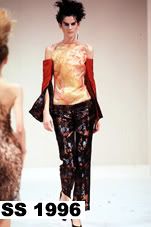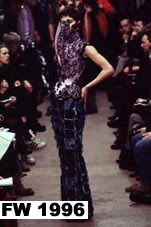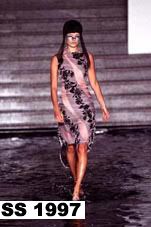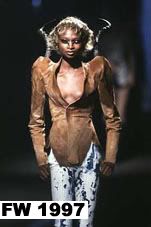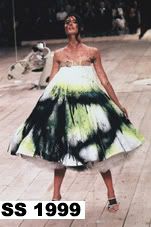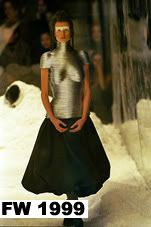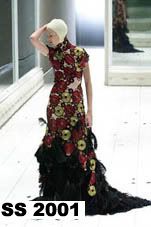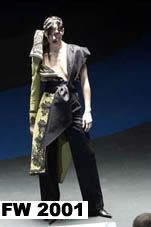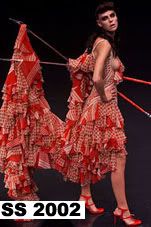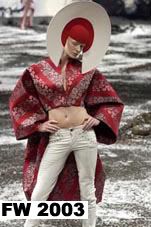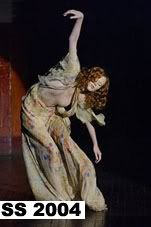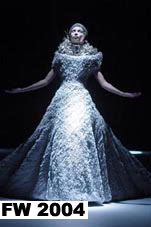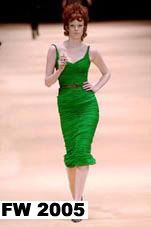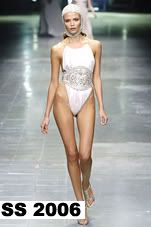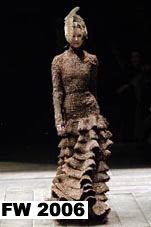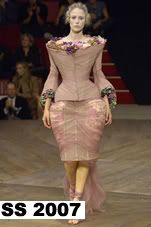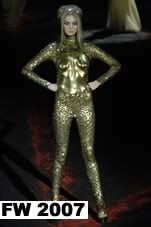 its been fifteen years since alexander mcqueen's debut collection, and despite all the praises and criticisms, mcqueen's renegade sensibility that fuses romance, history, violence, and macabre gothicism has produced some of the most potent visual imagery in modern fashion.
mcqueen first caught the attention of the fashion world when isabella blow, the late fashion editor with a knack of launching the careers of new designers bought mcqueen's central saint martins MA graduate collection in its entirety. in the beginning, there was a raw, aggressive, and confrontational aspect in mcqueen's work that culminated in his now infamous "highland rape" collection for autumn/winter 1995 that was based on the exploitation of scotland at the hands of the british empire. with its torn tartan plaid and ripped lace paired with his signature "bumbster" pants, mcqueen was criticized for what editors perceived to be a misogynistic treatment of the sexual violation of women. despite of all the negative publicity, or maybe because of it, the attention brought to light that underneath all the showmanship and theatricality of mcqueen's shows, there was a saville row trained master tailor who's technical abilities was far more mature for a designer who was barely in his twenties and a talent that deserved to be noticed.
around the time mcqueen launched his label, the cultural spotlight was staring to shine on london. once the city that during the early eighties gave the world john galliano, vivienne westwood, and katharine hamnett, during the late eighties/early nineties london fashion was more known for designers with outrageous theatricality and no longevity. at the tail end of the decade however, a creative spurt suddenly found the city with talents such as hussein chalayan, stella mccartney and antonio berrardi. designers who graduated from the same alma mater as mcqueen who, while tended to lean towards the avant garde, also had a contemporary relevance that brought them above being a novelty into designers with real credibility.
this time was a fertile time for mcqueen and bernard arnault, the CEO of luxury goods conglomerate LVMH took notice. he was appointed as head designer for the revered house of givenchy designing its ready to wear and couture collections. and although he first gained notoriety as fashion's
enfant terrible
, he showed his softer, more romantic side with his emotionally wrought collection for his signature line for spring/summer 1999 that had model shalom harlow in a dance between two robots sprayed with yellow and black paint on her ivory dress. it was so moving, and poignant that it brought people to tears. it was the collection that finally killed any doubt about this young man who proved that he was able to produce a show that was so cohesive as a whole and present it in a dramatized story that captured the theme and emotion of the collection.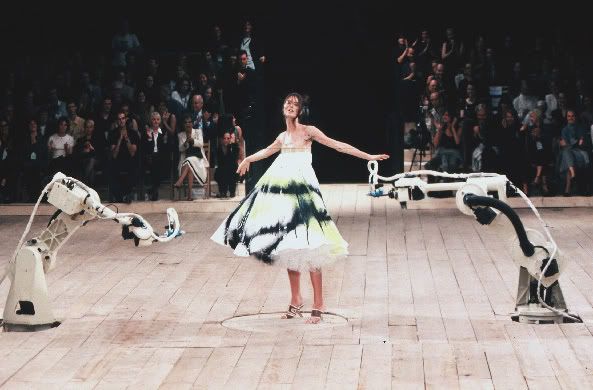 while his first efforts for givenchy was received with mixed criticisms, customers eventually started warming up to mcqueen and his new take on the givenchy woman. but tensions were rising between mcqueen and LVMH and in 2001 gave the gucci group, LVMH's biggest rival, the majority stake of his eponymous label. severing his relationship with givenchy and LVMH once and for all.
under his new financial backers, his autumn/winter 2002 collection was met with resounding success. proving that he can combine his avant garde sensibilities with commercial consideration without losing the drama and theatrical presentation that is so vital to effectively communicate his point of view. having to finally answer to a big boss however presented new obstacles for mcqueen who now had to take into consideration expectations to perform commercially and finally turn a profit.
the pressure to create something that is commercially understandable affected mcqueen and his collections for autum/winter 2005 and spring/summer 2006 are the best examples of mcqueen's percolated vision. it still had his signature, but it was short on soul and personality. the two ingredients that are the most integral part of the mcqueen DNA.
but redemption wasn't far behind. for autumn/winter 2006 mcqueen unleashed a collection that was flooded with all the mcqueen trademarks. the romance, the tartan, military frogging, and the drama came in full force. every exit rich with ideas traced with mcqueen's hands that had all the emotions and bankability buyers had been waiting for. and just like shalom's legendary battle with the robots, the hologram of kate moss hovering above the ground fresh of her recent drug scandal again had a well of emotions that had people in tears. for a designer that started out his career labeled as a misogynist, no one can create a vision of feminine beauty like mcqueen can. it is at once fleeting and ethereal. a beauty that evokes the past and looks towards the future and yet be so decidedly of the moment. it is a testament to the power of fashion that lifts it from banality into something sublime. with a sensitivity and compassion that is more than enough to warrant a tear to those privileged enough to experience it first hand.